Deila's farewell 'couldn't be better'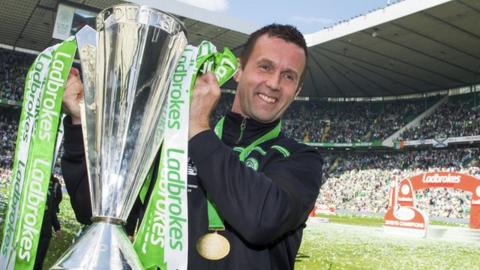 Ronny Deila certified his final diversion as Celtic manager "couldn't be better" as a Scottish Premiership champions distinguished by routing Motherwell 7-0.
The Norwegian's farewell brought goals from 6 players aged 24 or under, including 16-year-old Jack Aitchison.
"It's an romantic day, a illusory day in each way," he told BBC Scotland. "We played very, really good with a really immature group and scored 7 goals.
"There is so most talent here and these guys can be good in a future."
Left-back Kieran Tierney, 18, distinguished his initial idea for a bar on his 33rd coming of an superb entrance deteriorate that also enclosed a initial tour for Scotland.
Patrick Roberts, 19, twisted in his fourth idea in as many matches, while Ryan Christie, 21, was also on a scoresheet in usually his sixth diversion underneath Deila given returning from a loan spell during former bar Inverness Caledonian Thistle.
But a prominence was a idea with his initial hold from Aitchison, who during 16 years and 71 days became a youngest actor to paint Celtic in a rival match.
"The academy is a really critical partial of this club," Deila noted. "They have finished a really good job.
"It is so good to get a youngsters on a representation and for them to perform so well."
'I didn't know what to do when we scored'