Is Barkley back? And do unbeaten starts mean titles?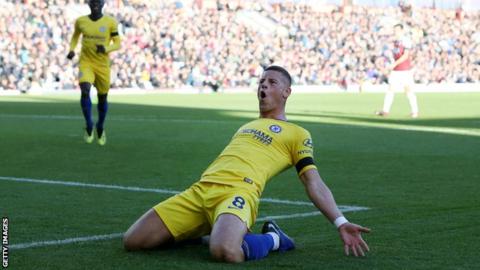 After 10 games, the Premier League table is starting to take shape.
Liverpool have marched to the top – and with the three teams still unbeaten, who does that bode well for?
Which midfielder set a new English record? Just how bad has Newcastle's start to the season been? And are they destined for relegation?
Here's a look at all of the key stats from this weekend and how they could impact the rest of the season.
Ross Barkley on the rise
Chelsea boss Maurizio Sarri says Ross Barkley is looking a "complete" player – and following his performance this weekend, it's difficult to argue.
The England midfielder has been in excellent form and became the first Englishman since Frank Lampard in 2013 to score in three consecutive Premier League games for Chelsea when he netted against Burnley on Sunday.
He was involved in the first three of Chelsea's goals as they emphatically won 4-0 – finishing the game with a goal and two assists.
It was only the second time in his career that he has been involved in three goals in a single match and the first time he has scored in three successive games.
He now has three goals and three assists this term – meaning he has been involved in a goal every 65 minutes in the league – and has scored from 25% of his shots.
It's a far cry from his struggles in recent times and Barkley has already played more than double the amount of time he did last season – he only managed 208 minutes in all competitions in 2017-18 after a hamstring injury hampered his form.
Top teams marching away – but who has good omens?