Non-League Day 2018: Driving diversity, tireless managers… and free gingerbread for fans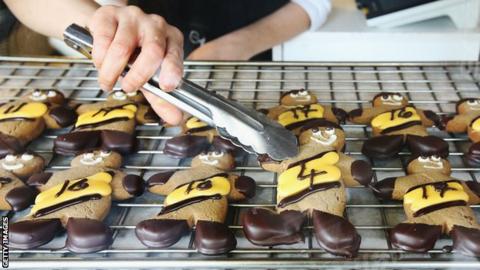 Two men championing diversity at grassroots, an interim manager's weekly 900-mile round trip to his club and gingerbread men sweeteners are among the bite-sized tales that make up Non-League Day 2018 on Saturday.
Scheduled to coincide with an international break, Non-League Day has become a firm part of the football schedule over the past eight years, with clubs showcasing the importance of volunteer-led community football while giving fans across the country the chance to show support for their local non-league side.
Kicking It Out… at all levels of football
For Tajean Hutton, Non-League Day marks a bold new beginning for Kick It Out.
Hutton has recently taken on the role of community manager with the organisation which focuses on equality and inclusion in football.
And, 25 years after Kick It Out was founded, it is the first time they have dedicated staff working at non-league level.
"I'm here to provide consistent support so they realise that Kick It Out doesn't just deal with the professional game, but deals with football at all levels," said Hutton, who is involved in a number of initiatives at clubs on Saturday.
"At the moment it is about building trust with grassroots facilitators and participants. I know how it feels to be discriminated against for so long that you turn numb to the feeling and you don't report it or say anything about it.
"The first thing for me is to use Non-League Day as leverage to spread the message."
And just how important is that message in 2018?
"This job was created in recognition that even though Kick It Out has been operating for 25 years, a majority of the work has influenced change in the pro game," said Hutton. "At the grassroots level, the state of the game from a discriminatory standpoint, an equality and inclusion standpoint – you are looking at the game like it was in 1993.
"It is starting all that work again. We need to make sure we make a change at all levels."
Reaching top was hard work 'for reasons I'm not happy about'