England players urged to 'show more personality'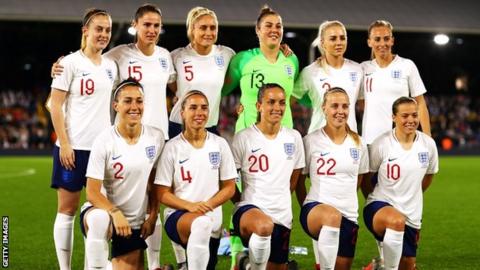 England's women's team needs to show more personality in order to engage better with fans, says former United States midfielder Heather O'Reilly.
The 2012 Olympics and 2015 World Cup winner thinks England lag behind the US when it comes to building the profile of the women's game.
"They're getting it done on the field," she told the World Football programme.
"But I'd like to see those women show a little bit more connection and personality to the fans."
O'Reilly, who recently won the NWSL with North Carolina Courage after spending the 2017-18 season at Arsenal Ladies, added: "Fortunately or unfortunately, I think that sort of differentiator is needed in the women's game.
"Not only do you need to get it done on the field but you need to enhance and create a little bit of brand so you stick with the fans. That's just the nature of the sport right now.
"It's up to the individual. Some players really embrace fame and some players really want to get down to business and play their football. But they need some characters to step forward and not be afraid of a little spotlight."